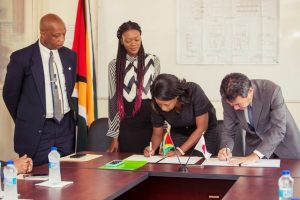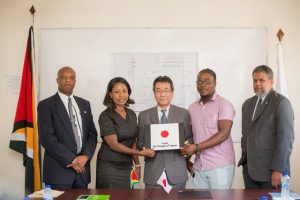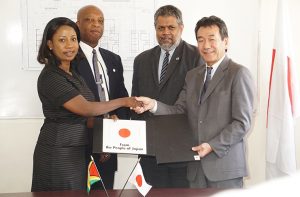 The signing ceremony for the Grant Assistance for the Grass-roots Human Security Project (GGP) recipient took place at 11:00 a.m. on February 7, 2020, at the Volunteer Youth Corps Inc. Main Office in Lot 'E' Luckhoo Street, Durban Backlands, Georgetown, Guyana. The recipient of the grant assistance was, the Volunteer Youth Corps Inc. The organization received grant aid for the cumulative value of US$95,269 in grant aid from the Government of Japan to assist in their infrastructure development which will enable the organization will be able to create more ample space to carry out VYC's activities and provide educational support to youth in Guyana.
The ceremony was attended by, His Excellency Tatsuo Hirayama, Ambassador of Japan, Mr. Kashir Khan, Honorary Consul General for Japan in Guyana, Mr. Forbes July, Director of Department of International Cooperation, Ministry of Foreign Affairs, and Goldie Scott, CEO, Volunteer Youth Corps Inc. Winning contractor, Mr Samuel John, of SAEA Construction, was also in attendance along with invited guests and media.
In her speech, Ms. Scott highlighted that the renovation and expansion of the current space to three (3) floors; which will provide for a more comfortable learning environment and improve access to quality education and social services for 1000+ at risk and vulnerable youth who are current beneficiaries of VYC's four (4) programs. The programs offered by the organization include STEM education; inclusive of Robotics lessons; which serves 500+ students throughout grades 9-11, in 12 high schools in region 4 (Georgetown), Youth Employment training, Career guidance and Big Brothers Big Sisters mentoring.
The Ambassador of Japan in his speech mentioned that it is the third time that the Embassy has had a cooperative project with Volunteer Youth Corps under this Grant Assistance for Grassroots Human Security scheme and so naturally, he was triply pleased to commit to assisting the expansion of the Youth Center. The Ambassador highlighted that the particular focus should be on the younger generation which has vast potential but may not have the immediate means to get things started.
Mr Forbes July, Director of Department of International Cooperation within the Ministry of Foreign Affairs also spoke and commended Volunteer Youth Corps Inc. for a job well done for the services provided reiterated the Government's support to the development initiative.
The Board of Directors of Volunteer Youth Corps Inc. would like to extend thanks to the Government of Japan, the Ministry of Foreign Affairs and Ministry of the Presidency for supporting this development initiative.
VYC PR Team